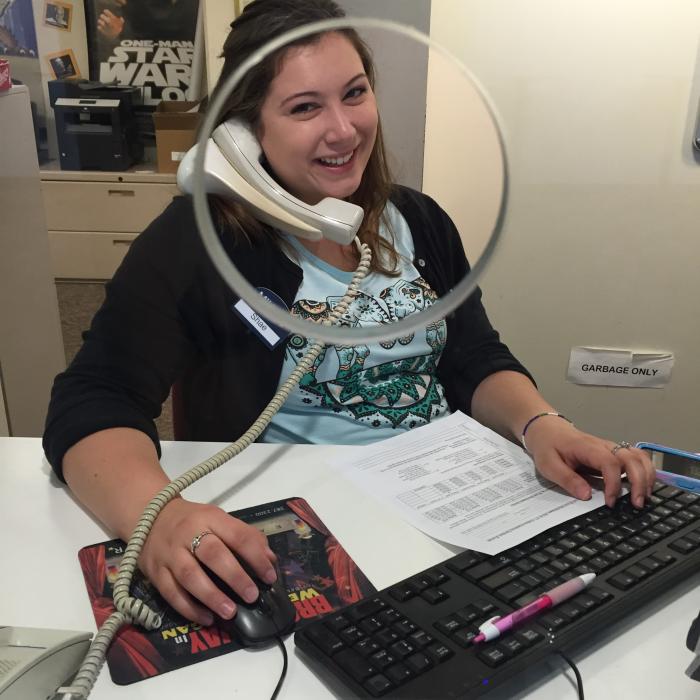 Welcome to Miller Auditorium!
Whether it's your first time visiting Miller Auditorium or if you're a returning patron, you may have some general questions about our facility. We have also compiled a list of frequently asked visitor questions—just select the topic you'd like to learn more about from the menu below. If you need anything else, please call us at (269) 387-2300.
Ticketing policy questions
You may also be interested in our box office ticketing policies. If so they can be found by clicking the button below.
Miller Auditorium takes pride in maintaining its leading role in making the arts accessible to all. Click here for specific information about accessibility or call our Patron Services Manager at (269) 387-2320 or (800) 228-9858 for more information.
In an effort to enhance the safety of our patrons, Miller Auditorium has adopted a best practices policy, consistent with policies being implemented at performing arts centers across the nation. When coming to Miller, bags and purses should be no larger than 4.5" X 6.5" or approximately the size of small handbag/clutch purse. Anything larger than that may be subject to search or you may be requested to return the bag to your vehicle. Backpacks of any kind are strictly prohibited.
Miller Auditorium is located on the campus of Western Michigan University at the corner of Stadium Drive and Howard Street in Kalamazoo, Michigan.
Using GPS or other online driving directions?
Please use Miller's physical address:
1341 Theatre Dr.
Kalamazoo, MI 49008
Visit our Directions and Parking page for directions to Miller Auditorium and maps of the WMU campus and Kalamazoo.
You may also get detailed directions from your location to Miller Auditorium by using WMU's Interactive Map.
An elevator is available in the lobby with access to all levels on house right. When purchasing tickets, patrons with difficulty walking should request seating on the right side of the theatre.
A Western Michigan University operator is on duty during all performances and can be reached at (269) 387-5555. Patrons are asked to give sitters the name of the show and their seat locations so they can be found in the theatre.
Concession stations are available in the Orchestra and Grand Tier lobbies, serving light snacks, coffee, and beverages. Outside food and beverages are not allowed into the theatre. Purchased concessions items, bottled water, soda, and Miller bar beverages with lids are allowed in the seating area.
Because we host touring productions with large casts and crews traveling across the country, Miller Auditorium rarely closes for inclement weather. Any performance changes due to weather will be communicated on our website and on Miller Auditorium's Facebook, Instagram and Twitter accounts. Per our ticketing policies, all ticket sales are final and there are no refunds, even due to inclement weather.
Parking is free and conveniently located in the parking ramp and surface lot next to the ramp. After 6 p.m. on performance nights, you do not have to put money in the meters in the parking ramp.
Preferred parking for Subscribers is located on the first level in the parking ramp.
For more information, see our detailed parking map.
In general, most shows performed at Miller Auditorium are two hours plus one 20-minute intermission. Most children's shows are 60–90 minutes and generally do not include an intermission. For specific show times, please call the box office at (269) 387-2300.
For most performances, we distribute complimentary house programs. Some performances have souvenir programs available for sale.
Most productions have show merchandise available for sale prior to the performance, at intermission and at the conclusion of each performance.
We do require the basics (shirt, shoes, etc.), but other than that, come as you like and be comfortable! Most patrons wear "business attire," but casual is okay. It's whatever makes you the most comfortable. We want you to enjoy the show.